SHRIRAM AUTOMALL SUCCESSFULLY CONDUCTED "GAADI BHI PICNIC BHI" A MAJOR CAR EXCHANGE EVENT IN AHMEDABAD CITY
Shriram Automall relentlessly pushes boundaries and continuously strives to generate innovative mobility solutions for various customer domains. Following this spirit, the company organized a unique concept
Topics: NBFCs | vehicles | auction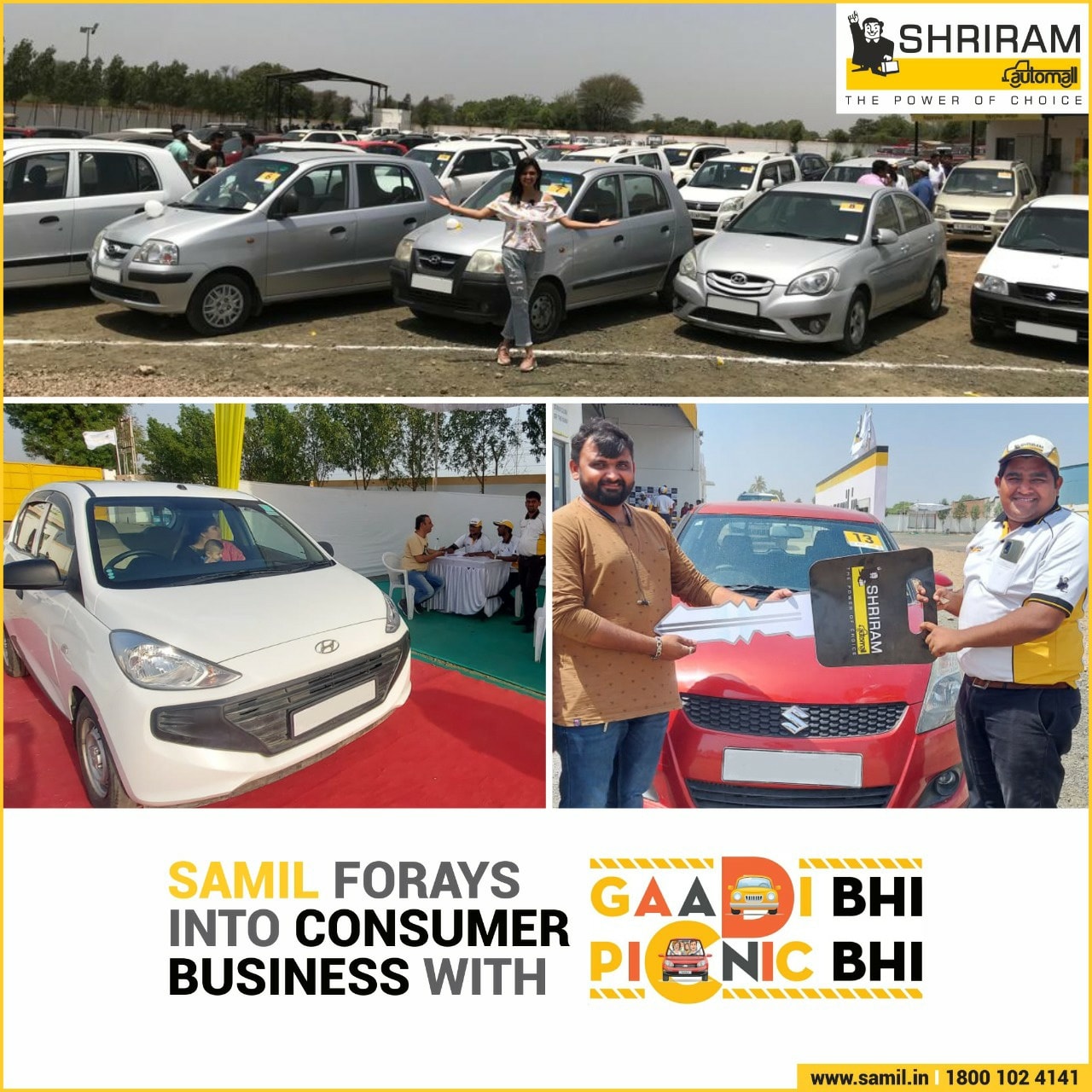 Key Highlights:
End-to-end solutions for pre-owned car sales and purchase
Wide range of pre-owned cars to make a choice
Instant car valuation facility
The 2-Day event was packed with pre-owned cars, auctions, allied services and more
Customer engagements with family
Divya Bhaskar and 94.3 FM collaborated as media partners
Availability of new cars OEM dealers, quick and easy car finance options
New Delhi/Chennai, 4 th May 2022: Shriram Automall India Limited (SAMIL), India's leading marketplace of pre-owned vehicles and equipment, successfully concluded a one-of-its-kind consumer event in Ahmedabad, Gujarat. The event, titled "Gaadi Bhi Picnic Bhi," was a 2-day event held on 30th April and 1st May 2022. Through this, SAMIL invited customers to sell their pre-owned cars and at the same time giving opportunities for pre-owned car aspirants to choose cars at the best prices under one roof. Customers were invited to come with their families in a bid to create a next-level customer experience at the Automall with all sorts of family engagement and a dedicated kids' play area.
The first step for customers was to discover the right value of their old cars which was done by expert valuation professionals of Shriram Automall. With the revelation of expected value of the cars of participating customers, the vehicles were then tagged for auction on the second day of the event. On the auction day, customers from all industry segments were allowed to bid for their choice of cars.
"Gaadi Bhi Picnic Bhi" event was covered by Print, Radio & Digital media. Divya Bhaskar, the Gujarati arm of Dainik Bhaskar newspaper, delivered teaser ads, revealer ads and first-day coverage. 94.3 FM radio jingles and bytes were used to propagate the event details along with live updates. These marketing activities turned out to be successful in drawing the attention of many consumers who participated in the event.
SAMIL also invited major OEMs dealers including Maruti Suzuki, Tata Motors and Mahindra & Mahindra to set up their displays for entertaining customers regarding new car inquiries. Furthermore, invites were sent to various banks and NBFCs for a quick car finance facility and the batch included Shriram Transport Finance Company, IDFC First Bank and Sinha Finance. Apart from these, all the allied services of SAMIL such as documentation, parking, logistics, FASTag and more were also available for hassle-free vehicle transactions.
On the success of the unique event, Mr Sameer Malhotra, Director and CEO, SAMIL said, "We are delighted to share that "Gaadi Bhi Picnic Bhi" event turned out to be a great success for being a unique consumer-centric event. This marks SAMIL's foray into potentially huge consumer pre-owned car exchange space and with a clear understanding of consumer business; we are resolute to deliver the best buying and selling experience. We are confident in leading this vertical as well because our model offers a one-of-its-kind ambience and customer engagement that no one else in the industry has offered yet."
ABOUT SHRIRAM AUTOMALL INDIA LIMITED (SAMIL):
Shriram Automall India Limited (SAMIL), an ISO 9001:2015 certified company, is India's leading Marketplace connecting pre-owned vehicles and equipment buyers and sellers. SAMIL began its journey in 2011 by setting up India's first professionally managed and organized Auction Platform for buying and selling pre-owned cars, commercial vehicles, construction equipment, farm equipment, three-wheelers, two-wheelers, etc.
Backed by CarTrade Tech Limited and Shriram Finance Limited, SAMIL has over 1,700 employees and more than 120 Automalls across India. SAMIL conducts thousands of auction events every month through its Phygital platforms (Automalls) and online platforms cartradeexchange.com & bids.samil.in. SAMIL also provides vehicle inspection and valuation services through Adroit Auto, innovative car buying and selling experience through BlueJack, precise used vehicles & equipment pricing through ThePriceX and industrial auction of properties, plant and machinery, commodities, and scrap, salvage and surplus assets through 123done.in.
For more information, please contact:
Mrs Vibha Sarin Prabhakar
Chief Experience Officer – Marketing, Customer Experience and Physical Demand
Shriram Automall India Limited (SAMIL), Delhi | India
7th Floor, Best Business Park, Netaji Subhash Place,
Pitampura, Delhi – 110034
Tel: +91.11.42414422,
Fax: +91.11.42414444
E-Mail: vibha@samil.in
Website: www.samil.in