SHRIRAM AUTOMALL PARTNERS WITH SCHOOL OF ARTIFICIAL INTELLIGENCE AT IIT DELHI FOR ENHANCING
ThePriceX – Pre-owned vehicle price prediction engine
Topics: NBFCs | vehicles | auction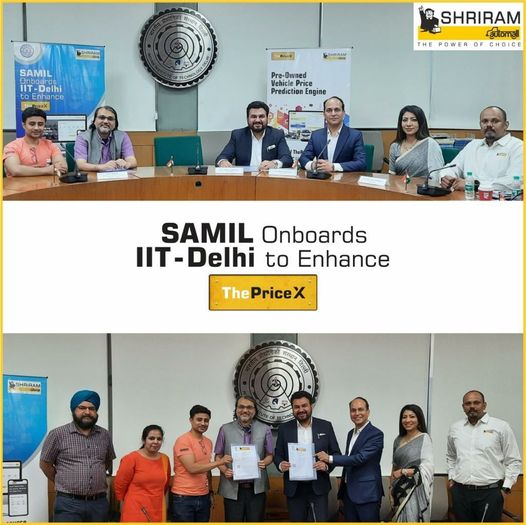 New Delhi/Chennai, 9th May 2022: Shriram Automall India Limited (SAMIL), India's Leading Marketplace for Pre-owned Vehicles and Equipment, signed an agreement with Yardi School of Artificial Intelligence, IIT Delhi to enhance their in-house developed platform called ThePriceX, which assists in predicting value of any pre-owned vehicle from any source and geography, real-time.
Through this exclusive agreement, IIT-Delhi's professors Prof. Mausam and Prof. Sayan Ranu will provide the expertise to improve the accuracy of ThePriceX tool through statistical modelling, machine learning and other complex artificial intelligence algorithms while SAMIL will provide its decade long expertise on pricing and valuation data of pre-owned vehicles and equipment.
ThePriceX is an advanced price prediction engine. It is aimed at solving a major problem of vague and distorted value of vehicles and equipment which overshadows the pre-owned marketplace in the country. It is already being used by all the leading banks, insurance companies, NBFC's as well as OEM's. ThePriceX is a scientific & insightful approach towards price discovery. Users get the data driven results on basis of lakhs of successfully transacted vehicles over the past 11 years.
The buyers can know the right value of the vehicle in just 3 simple steps. The sellers are able to use the tool to know the right value of vehicle and save them from getting the loss. Even the used vehicle dealer can acquire used cars at a right price and save themselves from paying a huge margin to middleman. ThePriceX is also beneficial for new vehicle dealers as they can get the right exchange value for the used vehicles to ensure a smooth and hassle free transactions. With this the Original Equipment Manufacturers (of Cars, Trucks, Construction equipment, Tractors, Bus, two and three wheelers etc.), Insurance Companies, repo Companies, Ride & Taxi Hailing, Banks and NBFC's will also be benefitted.
Sharing his views over the tie-up, Mr. Sameer Malhotra, Director and CEO, (SAMIL) said: "We are glad to announce SAMIL's strategic tie-up with IIT Delhi where the best brains of India and SAMIL's technology team will work together on enrichment of already advanced pre-owned vehicle price prediction tool, ThePriceX. ThePriceX is one-of-its kind valuation tool that will help a slew of clients with their problem of fuzzy valuation of vehicles and equipment within seconds. SAMIL has been a frontrunner in providing technological solutions in the pre-owned vehicle and equipment space and we are confident on sustaining that image."
ABOUT SHRIRAM AUTOMALL INDIA LIMITED (SAMIL):
Shriram Automall India Limited (SAMIL), an ISO 9001:2015 certified company, is India's leading Marketplace connecting pre-owned vehicles and equipment buyers and sellers. SAMIL began its journey in 2011 by setting up India's first professionally managed and organized Auction Platform for buying and selling pre-owned cars, commercial vehicles, construction equipment, farm equipment, three-wheelers, two-wheelers, etc.
Backed by CarTrade Tech Limited and Shriram Finance Limited, SAMIL has over 1,700 employees and more than 120 Automalls across India. SAMIL conducts thousands of auction events every month through its Phygital platforms (Automalls) and online platforms cartradeexchange.com & bids.samil.in. SAMIL also provides vehicle inspection and valuation services through Adroit Auto, innovative car buying and selling experience through BlueJack, precise used vehicles & equipment pricing through ThePriceX and industrial auction of properties, plant and machinery, commodities, and scrap, salvage and surplus assets through 123done.in.
For more information about Shriram Automall, its group companies and services, visit samil.in.
For more information, please contact:
Mrs Vibha Sarin Prabhakar
Chief Experience Officer – Marketing, Customer Experience and Physical Demand
Shriram Automall India Limited (SAMIL), Delhi | India
7th Floor, Best Business Park, Netaji Subhash Place,
Pitampura, Delhi – 110034
Tel: +91.11.42414422,
Fax: +91.11.42414444
E-Mail: vibha@samil.in
Website: www.samil.in