SHRIRAM AUTOMALL IS EXPANDING CUSTOMER REACH IN BERHAMPUR, ODISHA
Shriram Automall inaugurated state-of-the-art facility in Berhampur as a part of strategic expansion plan for the year 2022
Topics: NBFCs | vehicles | auction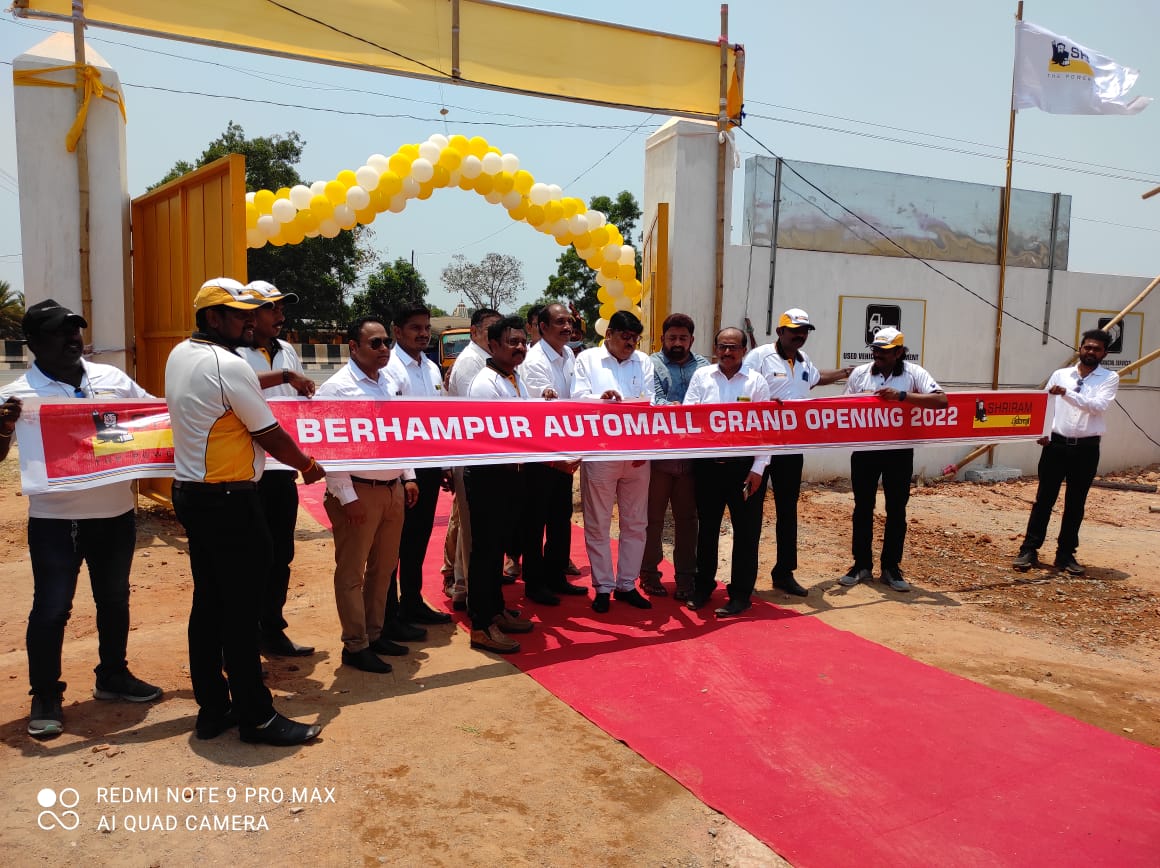 KEY HIGHLIGHTS:
90+ pre-owned vehicles & equipment were available for disposal
Will cater to the demands of cars, commercial vehicles, farm equipment, construction equipment, two wheelers and three wheelers
Multiple vehicles & equipment under one roof for buying & selling
Availability to participate in the event through MySamil Mobile App
Allied services like Parking, Inspection & Valuation, Documentation, Finance and Logistics are available
April 27, 2022: Shriram Automall India Limited (SAMIL) - India's leading marketplace for preowned vehicles and equipment connecting lakhs of buyers and sellers. Over the last 11 years, SAMIL has achieved countless milestones such as 100+ Automalls at 100+ locations, 18,50,000+ Registered Customers, 84,000+ Sellers across Banks, NBFCs, Insurance Companies, OEMs & Dealers, Leasing, Rental & Aggregator Companies, Brokers, Transporters, Contractors, and End Users, 16,00,000+ lots sold, INR 30,000+ crores worth of transactions recorded. More than 3,000 bidding events are conducted every month making the company a great place to quickly buy and sell pre-owned vehicles and equipment.
With an aim to serve growing demand of pre-owned vehicles and equipment in Berhampur and nearby areas, Shriram Automall India Limited (SAMIL) has inaugurated its brand new Automall facility in Berhampur as a part of its strategic expansion plan for the year 2022.
Shriram Automall Berhampur is strategically located at Raghunathpur, NH-5, Beside IOCL Petrol Pump, PO - Narendrapur, Chamakhandi, Ganjam District, Odisha - 760007, which is one of the prime locations in the area.
The facility promises complete solutions of pre-owned vehicles and equipment related needs of fleet owners, transporters, dealerships, manufacturers and individual buyers in the area. Available in the facility will be wide range of pre-owned cars, different types of commercial vehicles, farm equipment and more, which are the need of the hour in the targeted region.
Sameer Malhotra, Director & CEO, Shriram Automall said "We are extremely happy to expand our physical footprint in Odisha by inaugurating Berhampur Automall. We would like to express our heartfelt gratitude to our guests, clients and Samilians who were present during the inauguration ceremony. We are excited to provide holistic services relating to pre-owned vehicles & equipment with lifetime experiences to our buyers and sellers." Shriram Automall Berhampur was inaugurated by Mr. J.V Sudhakar (Chief Operating Officer, SAMIL) as chief guest along with Mr. P.K Mohanty (Deputy Commissioner Transport, South Zone) and Mr. Rabinarayan Satapathy (Vice President, All India Transport Congress, New Delhi) attended as special guests. The guests of honour were Mr. L Sivaprasad Reddy (State Head, STFC Odisha) and Mr. K. Rajasekhar (Zonal Business Head, SAMIL). Mr. Srinivas P who serves as State Business Head, SAMIL was also present during the inauguration.
ABOUT SHRIRAM AUTOMALL INDIA LIMITED (SAMIL):
Shriram Automall India Limited (SAMIL), an ISO 9001:2015 certified company, is India's leading Marketplace connecting pre-owned vehicles and equipment buyers and sellers. SAMIL began its journey in 2011 by setting up India's first professionally managed and organized Auction Platform for buying and selling pre-owned cars, commercial vehicles, construction equipment, farm equipment, three-wheelers, two-wheelers, etc.
Backed by CarTrade Tech Limited and Shriram Finance Limited, SAMIL has over 1,700 employees and more than 120 Automalls across India. SAMIL conducts thousands of auction events every month through its Phygital platforms (Automalls) and online platforms cartradeexchange.com & bids.samil.in. SAMIL also provides vehicle inspection and valuation services through Adroit Auto, innovative car buying and selling experience through BlueJack, precise used vehicles & equipment pricing through ThePriceX and industrial auction of properties, plant and machinery, commodities, and scrap, salvage and surplus assets through 123done.in.
Berhampur Automall
Address: Shriram Automall Berhampur, Raghunathpur, NH-5, Beside IOCL Petrol Pump. PO - Narendrapur, Chamakhandi, Ganjam District, Odisha – 760007
Contact: Mr. Prabhath Kumar Dhal, Automall Business Head | +91.8658738320
For more information, please contact:
Mrs Vibha Sarin Prabhakar
Chief Experience Officer – Marketing, Customer Experience and Physical Demand
Shriram Automall India Limited (SAMIL), Delhi | India
7th Floor, Best Business Park, Netaji Subhash Place,
Pitampura, Delhi – 110034
Tel: +91.11.42414422,
Fax: +91.11.42414444
E-Mail: vibha@samil.in
Website: www.samil.in