SHRIRAM AUTOMALL INDIA LIMITED BAGS COMPANY OF THE YEAR AWARD BY THE BUSINESS LEADERSHIP AWARDS 2022
India's Largest Phygital Marketplace for Pre-owned Vehicles and Equipment, was accoladed by another prestigious award in the automobile industry
Topics: NBFCs | vehicles | auction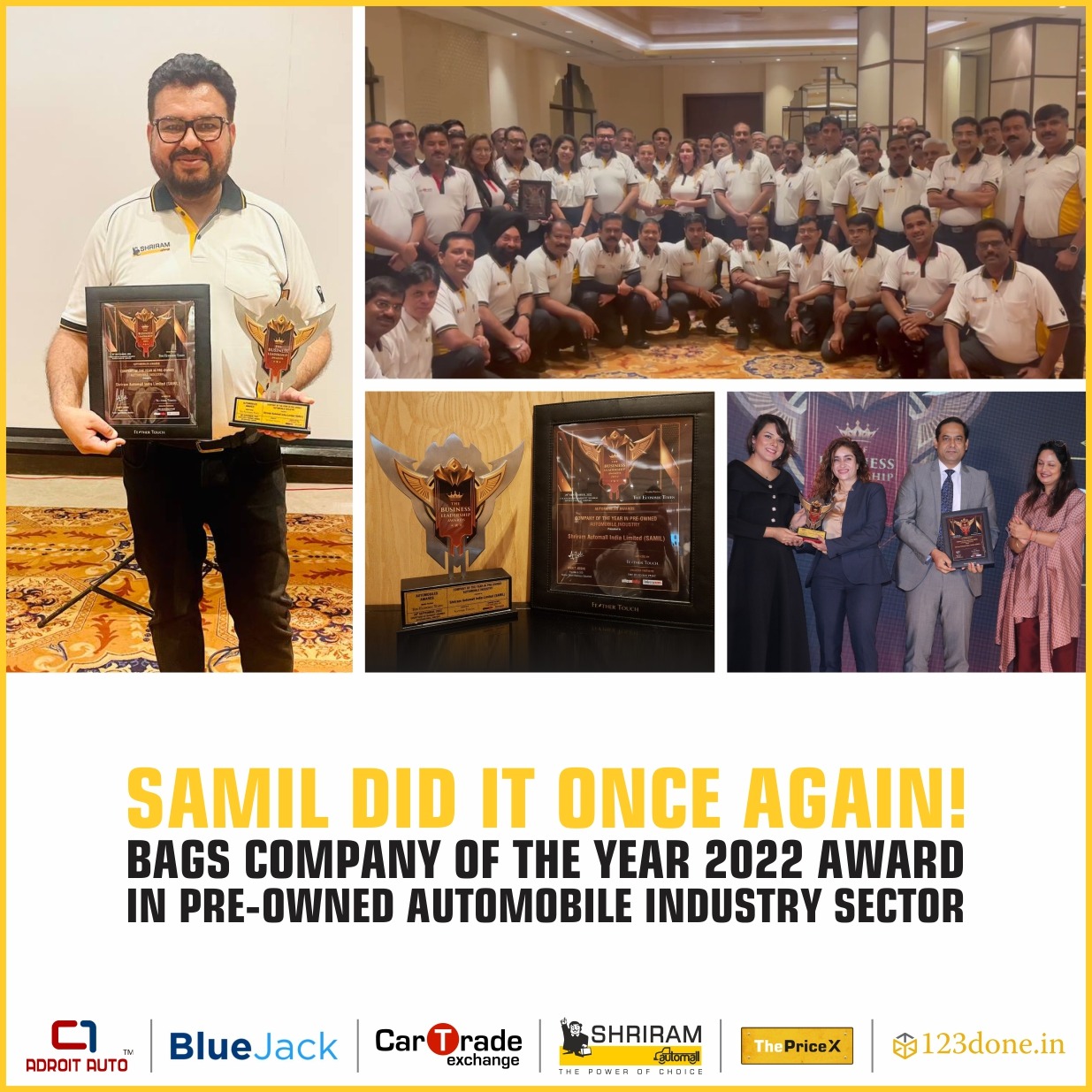 New Delhi/Chennai, 29th September 2022: Shriram Automall India Limited (SAMIL), India's Largest Phygital Marketplace for Pre-owned Vehicles and Equipment, was accoladed by another prestigious award in the automobile industry. The Business Leadership Awards bestowed SAMIL with Company of the Year in Pre-owned Automobile Industry 2022. The Award was received by company officials on 29th September 2022 during the Award ceremony which was held at Courtyard By Marriott, Mumbai.
Shriram Automall India Limited continues proves that it has a strong hold over pre-owned vehicles & equipment industry and is ahead of the competitors. SAMIL's ISO 2015:9001 certified processes and transparent auctions deliver best customer experience in the industry. The company has presence at 100+ locations across length and breadth of the country in a bid to provide its holistic services to a wider customer base. SAMIL is known to provide innovative digital solutions in the pre-owned automotive industry through advanced Phygital Auction System with audio and video streaming and Full-Fledged Online Bidding Platforms.
The company recently introduced 'One India One Click' model of buying and selling pre-owned vehicles. With this model, we are enabling a seller from West (Ahmedabad) to exchange his/her vehicle registered in East (Nagaland), parked in a yard in North (Manesar) to a buyer from South (Bangalore) and vice-versa.
Sharing his views over the Award, Mr. Sameer Malhotra, Director and CEO, (SAMIL) said: "We did it once again! Shriram Automall India Limited bagged Company of the Year in Pre-owned Automobile Industry 2022 Award by The Business Leadership Awards. This award is an evidence of our holistic services under a single roof, transparent processes, best-in-industry reward program, customer-centric services for hassle-free transactions and excellent customer satisfaction through state-of-the-art Phygital, Online and Physical Auction platforms. We are working on to hold this position and deliver even better performance in the time to come."
ABOUT SHRIRAM AUTOMALL INDIA LIMITED (SAMIL):
Shriram Automall India Limited (SAMIL), an ISO 9001:2015 certified company, is India's leading Marketplace connecting pre-owned vehicles and equipment buyers and sellers. SAMIL began its journey in 2011 by setting up India's first professionally managed and organized Auction Platform for buying and selling pre-owned cars, commercial vehicles, construction equipment, farm equipment, three-wheelers, two-wheelers, etc.
Backed by CarTrade Tech Limited and Shriram Finance Limited, SAMIL has over 1,700 employees and more than 120 Automalls across India. SAMIL conducts thousands of auction events every month through its Phygital platforms (Automalls) and online platforms cartradeexchange.com & bids.samil.in. SAMIL also provides vehicle inspection and valuation services through Adroit Auto, innovative car buying and selling experience through BlueJack, precise used vehicles & equipment pricing through ThePriceX and industrial auction of properties, plant and machinery, commodities, and scrap, salvage and surplus assets through 123done.in.
For more information about Shriram Automall, its group companies and services, visit samil.in.
For more information, please contact:
Mrs Vibha Sarin Prabhakar
Chief Experience Officer
Shriram Automall India Limited (SAMIL), Delhi | India
7th Floor, Best Business Park, Netaji Subhash Place, Pitampura, Delhi – 110034
Tel: +91.11.42414422
Fax: +91.11.42414444
E-Mail: vibha@samil.in
Website: www.samil.in