NATION FIRST ALWAYS FIRST: A LANDMARK DAY WITH 120 AUCTIONS AT 120 LOCATIONS ON SAMIL FREEDOM AUCTION 2023
Shriram Automall, in line with its core values of being Nation First, Always First, has raised the bar once again, orchestrating an exceptional feat of holding 120 auctions across 120 locations in India aimed at offering buyers the liberty to bid on their desired pre-owned vehicles and equipment, marking the celebration of India's 76 year
Topics: NBFCs | vehicles | auction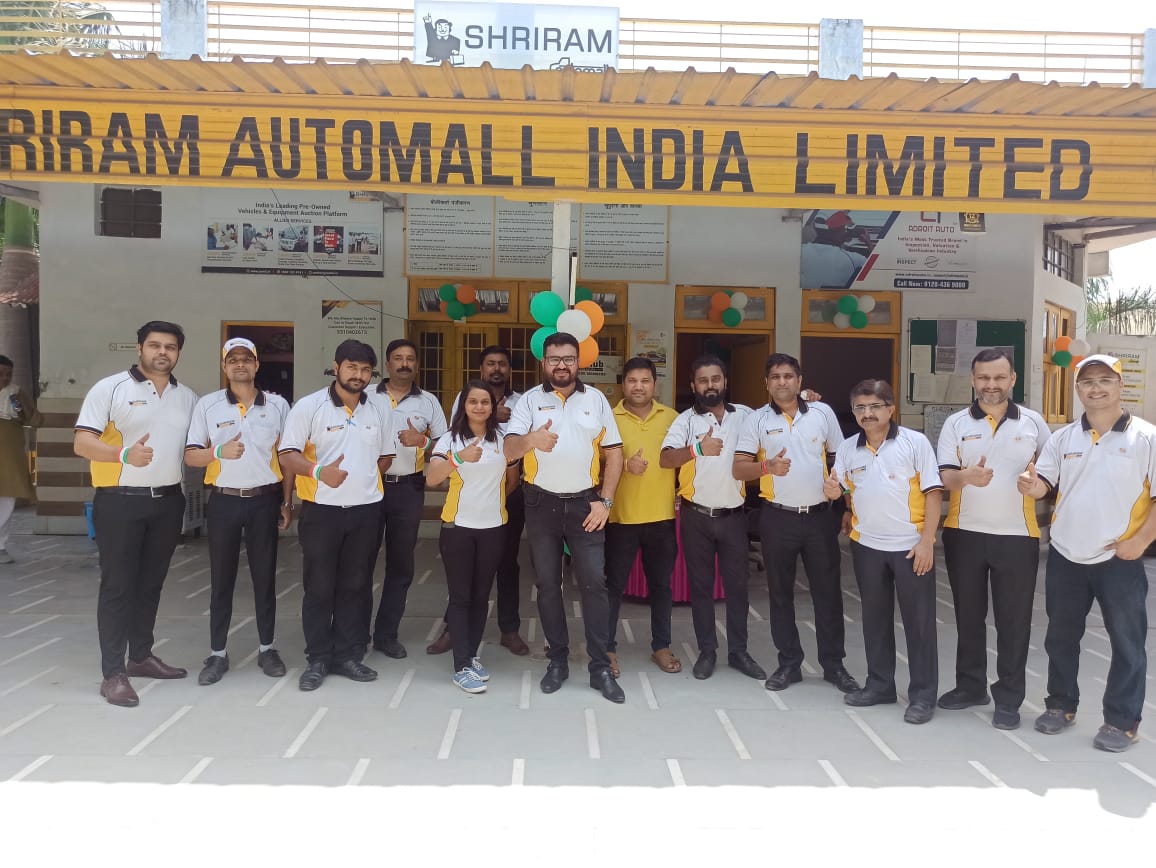 KEY HIGHLIGHTS:
120 auctions at 120 locations in a single day to celebrate 76 years of India's independence
Phygital (Physical plus Digital) Auctions facility empowered both buyers and sellers
All types of pre-owned vehicles and equipment under one roof for buying and selling
Over 13,000 vehicles and equipment displayed for auction
3400+ inventories sold in a single day
More than 17,000 customer footfalls registered from 500 cities
Rs. 100+ Cr. worth of transactions recorded
New Delhi, August 16 th, 2023: In a remarkable feat, Shriram Automall India Limited (SAMIL), India's Largest Phygital Pre-owned Marketplace has etched a new record by orchestrating an awe-inspiring event - the SAMIL Freedom Auction on 12th August 2023. On this significant occasion, 120+ auctions were simultaneously held at 120+ diverse locations spanning length and breadth of the Nation from Jammu to Chennai and from Gandhinagar to Kolkata, commemorating 76 years of India's Independence.
This event exemplified our commitment to providing an exceptional experience to buyers, enabling them to bid on their preferred pre-owned vehicles and equipment. The occasion resonated with the spirit of India's 76 years of Independence. All the Automalls across India witnessed an extraordinary congregation of choices - from two-wheelers and cars to construction equipment, from tractors to trucks. This colossal gathering of over 13,000 assets showcased the diversity of options available to our valued customers.
Pre-owned vehicles, equipment and other assets from a full spectrum of sellers across Consumers, Banks, NBFCs, Insurance Companies, OEMs and Dealers, Leasing, Rental and Aggregator Companies, Brokers, Transporters, and Contractors were displayed and ramped. This encompassing array of offerings symbolized the Power of Choice, empowering buyers to select from a vast array of inventories.
Embracing innovation, SAMIL offered the unique blend of Phygital Solutions - a fusion of Physical and Digital platforms. The cutting-edge technology, including Desktop Live Bidding and the MySAMIL App, enabled buyers and sellers to engage seamlessly. Live Streaming of auctions on the MySAMIL mobile App allowed real-time participation, regardless of location.
SAMIL Freedom Auction 2023 culminated with an outstanding achievement of Rs. 100+ Crores in transactions through sale of 3400+ inventories in a single day, reaffirming our dedication to serving our customers with excellence. This momentous occasion with over 17,000 customer footfall stands as a testament to SAMIL's unwavering commitment to innovation, excellence, and providing a platform that empowers both buyers and sellers. The legacy of this event will continue to inspire and shape the future of our industry.
Mr. Sameer Malhotra, Director & CEO – SAMIL, expressed his profound satisfaction as Shriram Automall in line with its core values of being Nation First, Always First, commemorated the 76 years of nation's independence with remarkable SAMIL Freedom Auction. This occasion showcased our commitment to empower our valued customers by providing them the opportunity to bid on their preferred pre-owned vehicles and equipment. The resounding success of conducting 120 auctions across 120 locations in a single day, resulting in the sale of over 3,400 inventories worth Rs. 100+ Cr, truly underscores the monumental achievement. The participation of more than 17,000 customers hailing from 500 cities in the SAMIL Freedom Auction further exemplifies our outreach. We extend our heartfelt gratitude to our distinguished guests, discerning buyers, esteemed sellers, and dedicated Samilians for contributing to the resounding success of the SAMIL Freedom Auction.
ABOUT SHRIRAM AUTOMALL INDIA LIMITED (SAMIL):
Shriram Automall India Limited (SAMIL), an ISO 9001:2015 certified and MSME company, is India's Largest Phygital Marketplace connecting pre-owned Vehicles & Equipment buyers and sellers. SAMIL began its journey in 2011 by setting up India's first professionally managed and organised Auction Platform for buying and selling pre-owned cars, commercial vehicles, construction equipment, farm equipment, three-wheelers, two-wheelers, etc.
Backed by CarTrade Tech Limited and Shriram Finance Limited, SAMIL has over 1,600 employees and more than 120 Automalls across India. SAMIL conducts thousands of auction events every month through its Phygital platforms (Automalls) and online platforms cartradeexchange.com & bids.samil.in. SAMIL also provides vehicle inspection and valuation services through Adroit Auto, innovative car buying and selling experience through BlueJack, precise used vehicles & equipment pricing through ThePriceX and industrial auction of properties, plant and machinery, commodities, and scrap, salvage and surplus assets through 123done.in.
For more information about Shriram Automall, its group companies and services, visit samil.in.

For more information, please contact:
Vibha Sarin Prabhakar
Chief Experience Officer
Shriram Automall India Limited (SAMIL), Delhi | India
7th Floor, Best Business Park, Netaji Subhash Place, Pitampura, Delhi – 110034
Tel: +91.11.42414422, Fax: +91.11.42414444
E-Mail: vibha@samil.in
Website: www.samil.in