SAMIL HONOURED FARMERS BY ORGANISING KISAN MAHOTSAV ON FARMERS' DAY WITH 120+ AUCTIONS AT 120+ LOCATIONS
Dubbed as SAMIL Kisan Mahotsav, Shriram Automall India Limited honoured the farmers of India by organising 120+ auctions at 120+ locations on Farmers' Day to provide great deals in used farm equipment and vehicles
Topics: NBFCs | vehicles | auction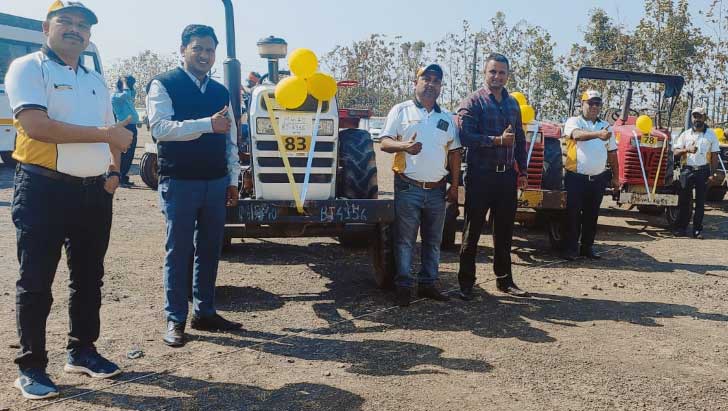 KEY HIGHLIGHTS:
· Celebrated two days Farmers' Day event with 120+ auctions at 120+ locations
· Golden opportunity for the farmers to enhance their output in the fields
· All types of used farm equipment available under one roof for buying and selling
· Over 16,000 farm equipment & other vehicles displayed for auction
· More than 12,000 customer footfalls registered from 500 cities
· Around Rs. 104+ Cr. worth of transactions recorded
December 24, 2022: Shriram Automall India Limited (SAMIL) - India's Largest Phygital Marketplace for Pre-owned Vehicles & Equipment, organised SAMIL Kisan Mahotsav, one of the biggest auction of the year, on the eve of Farmers' Day on December 22 and 23, 2022. Over the two days, Kisan Mahotsav saw action at 120+ locations pan-India with 120+ physical auctions. Farmers' Day is celebrated to honour and appreciate all the responsible farmers for their valuable contributions to our society.
SAMIL Kisan Mahotsav provided golden opportunity to the farmers with a wide range of used farm equipment including tractors of various makes & models, cultivating equipment & harvesting machines, and other vehicles. The company officials had interactions & productive meetings with local Farmers' communities to further improve services and customer satisfaction.
SAMIL Kisan Mahotsav ran with the tagline, 'Apka Vikas Humara Vishvas,' which was created to make farmers aware of the exclusive auctions, potential benefits of owning used farm equipment in agricultural depended states like Uttar Pradesh, West Bengal, Madhya Pradesh, Karnataka, Maharashtra, Punjab, Andhra Pradesh, Assam etc.
With the purchase of better condition used farm equipment at fair prices improves the cultivating as well as harvesting speed on the vast expanse of agricultural fields leading to greater productivity and lower down times for the farmers. This enables farmers to earn bigger profits and be prosperous. It is very important to give extra privilege to the gems of nation who work day and night to put food on our table and SAMIL did the same on the occasion of Farmers' Day. Farmers across the country participated and won farm equipment of their choice becoming proud owners of tractors, cultivators, harvesters and other vehicles that will enhance their working conditions in the fields.
On SAMIL Kisan Mahotsav, the company provided Phygital Solution (Physical plus Digital) to its customers with state-of-the-art technologies like Desktop Live Bidding and MySAMIL App. Through the Phygital platform, interested customers participated in Live Streaming of auctions on MySAMIL App where they could watch live vehicle ramping and were able to bid in real-time at any ongoing auction across India.
Over 16,000 used farm equipment, vehicles and other assets were available for auctions out of which 5,000+ farm equipment & vehicles were sold generating a business worth 104+ Cr. The event was successful with over 12,000 customers footfalls recorded at 120+ Automalls from tier I, II, and III cities across India in the two days event.
Mr Sameer Malhotra, Director and CEO, SAMIL said "We find ourselves happy and thankful to celebrate Farmers' Day in the country at such a large scale. With SAMIL Kisan Mahotsav, our sole purpose was to make our farmers feel special and respected with our extensive range of used farm equipment and other vehicles from all the segments. The two-day event of 120+ Auctions provided complete freedom to all the farmers to bid for their preferred used farm equipment at 120+ locations on the eve of Farmers' Day. We want to make our farmers empowered with better condition farm equipment that would lead to their prosperous life."
ABOUT SHRIRAM AUTOMALL INDIA LIMITED (SAMIL):
Shriram Automall India Limited (SAMIL), an ISO 9001:2015 certified company, is India's leading Marketplace connecting used vehicles & equipment buyers and sellers. SAMIL began its journey in 2011 by setting up India's first professionally managed and organised Auction Platform for buying and selling used cars, commercial vehicles, construction equipment, farm equipment, three-wheelers, two-wheelers, etc.
Backed by CarTrade Tech Limited and Shriram Finance Limited, SAMIL has over 1,700 employees and more than 120 Automalls across India. SAMIL conducts thousands of auction events every month through its Phygital platforms (Automalls) and online platforms cartradeexchange.com & bids.samil.in. SAMIL also provides vehicle inspection and valuation services through Adroit Auto, innovative car buying and selling experience through BlueJack, precise used vehicles & equipment pricing through ThePriceX and industrial auction of properties, plant and machinery, commodities, and scrap, salvage and surplus assets through 123done.in.
For more information about Shriram Automall, its group companies and services, visit samil.in.
For more information, please contact:
Mrs Vibha Sarin Prabhakar
Chief Experience Officer
Shriram Automall India Limited (SAMIL)
7th Floor, Best Business Park, Netaji Subhash Place, Pitampura, Delhi – 110034
Tel: +91.11.42414422
Fax: +91.11.42414444
E-Mail: vibha@samil.in
Website: www.samil.in