SHRIRAM AUTOMALL CONDUCTED SAMIL FREEDOM AUCTION WITH 100 AUCTIONS AT 100 LOCATIONS PAN INDIA IN A SINGLE DAY!
Shriram Automall set another benchmark by conducting 100 auctions at 100 locations across India to provide freedom to buyers to bid on their preferred pre-owned vehicles & equipment on the occasion of 75 years of India's independence.
Topics: NBFCs | vehicles | auction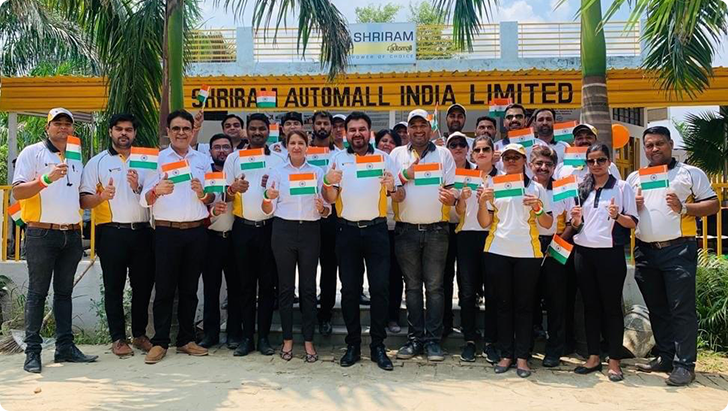 KEY HIGHLIGHTS:
Wide customer base of pre-owned commercial vehicles to benefit
Will cater to the demands of pre-owned commercial vehicles in all categories
Availability to participate in the event through MySamil Mobile App
Allied services like Parking, Inspection & Valuation, Documentation, Finance and Logistics are available
July 15, 2022: Shriram Automall India Limited (SAMIL) - India's leading marketplace for pre- owned vehicles and equipment connecting lakhs of buyers and sellers. Over the last 11 years, SAMIL has achieved countless milestones with 100+ Automalls at 100+ locations conducting more than 3,000 bidding events every month. It makes the company a great place to quickly buy or sell pre-owned vehicles and equipment across all segments.
Emphasizing on the path of creating an organised sector for pre-owned commercial vehicles, SAMIL has expanded its reach to wide customer base by inaugurating a dedicated office at Sanjay Gandhi Transport Nagar, Delhi.
SAMIL OFFICE is strategically located at CW 614, First Floor, Sanjay Gandhi Transport Nagar, Delhi – 110042 which is one of the prime locations for commercial vehicles in the Delhi region.
Shriram Automall allows customers to buy, sell or exchange Trucks, Articulated Trucks, Mini Trucks, Trailers, Tippers, Cargo Trucks, Pickup trucks, Reefers, Containers, Tankers, Buses & Maxi Van or Taxi, with the holistic solutions under a single roof.
Sameer Malhotra, Director & CEO, Shriram Automall said "We are extremely happy to strategically establish a dedicated office for pre-owned commercial vehicles in Delhi. SAMIL is on a journey to create a strong, organized and transparent environment for pre-owned commercial vehicles market in the country. Our holistic solutions to all kinds of pre-owned commercial vehicles will be available for all customers at the Transport Nagar from now onwards along with the allied services which makes buying and selling hassle-free."
SAMIL Office was inaugurated in the presence of chief guest Mr. Kultaran Singh Atwal, President – All India Motor transport Congress & Mr. Sameer Malhotra, Director & CEO, SAMIL
ABOUT SHRIRAM AUTOMALL INDIA LIMITED (SAMIL):
Shriram Automall India Limited (SAMIL), an ISO 9001:2015 certified company, is India's leading Marketplace connecting pre-owned vehicles and equipment buyers and sellers. SAMIL began its journey in 2011 by setting up India's first professionally managed and organized Auction Platform for buying and selling pre-owned cars, commercial vehicles, construction equipment, farm equipment, three-wheelers, two-wheelers, etc.
Backed by CarTrade Tech Limited and Shriram Finance Limited, SAMIL has over 1,700 employees and more than 120 Automalls across India. SAMIL conducts thousands of auction events every month through its Phygital platforms (Automalls) and online platforms cartradeexchange.com & bids.samil.in. SAMIL also provides vehicle inspection and valuation services through Adroit Auto, innovative car buying and selling experience through BlueJack, precise used vehicles & equipment pricing through ThePriceX and industrial auction of properties, plant and machinery, commodities, and scrap, salvage and surplus assets through 123done.in.
SAMIL OFFICE
Address: SAMIL Office, CW 614, First Floor, Sanjay Gandhi Transport Nagar, Delhi – 110042
For more information, please contact:
Mrs Vibha Sarin Prabhakar
Chief Experience Officer – Marketing, Customer Experience and Physical Demand
Shriram Automall India Limited (SAMIL), Delhi | India
7th Floor, Best Business Park, Netaji Subhash Place,
Pitampura, Delhi – 110034
Tel: +91.11.42414422,
Fax: +91.11.42414444
E-Mail: vibha@samil.in
Website: www.samil.in