SHRIRAM AUTOMALL INDIA LIMITED SHOWCASED NEXT GENERATION PHYGITAL AUCTION TECHNOLOGY AT AUTO EXPO 2023
Topics: NBFCs | vehicles | auction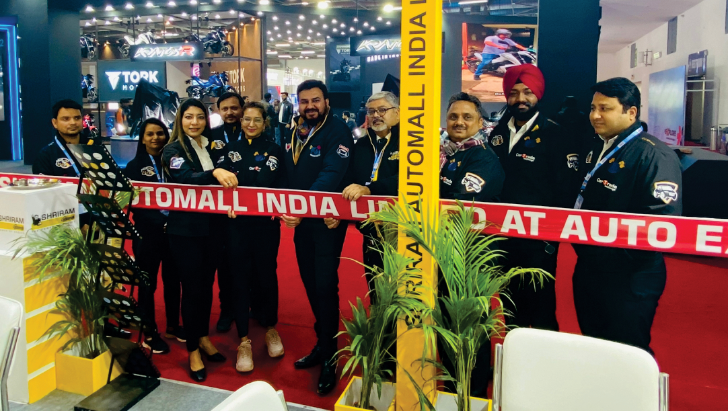 New Delhi, 19th January 2023: Shriram Automall India Limited (SAMIL) - India's Largest Phygital Marketplace for used Vehicles and Equipment, interacted with the visitors at the 16th edition of Auto Expo 2023, India's largest Motor Show which was held in Greater Noida from 11th to 18th January 2023.
SAMIL Stall was inaugurated by Sameer Malhotra, Director & CEO – SAMIL along with company officials. The response was overwhelming as a number of media personnel from esteemed publications took interview of Mr Malhotra and the company gathered 2,000+ leads along with 30,000+ footfalls recorded at the stall during the event.
SAMIL was successful in spreading the awareness about the presence at 120+ locations pan- India and the transparent auction process that makes SAMIL a great place to buy & sell used vehicles & equipment. Visitor interactions happened through multiple Live Demo Auctions per day and interesting business conversations where visitors participated with enthusiasm to experience the real Bidding process. All the activities and demo auctions at SAMIL stall were live streaming on YouTube throughout the 8-day event.
In the Auto Expo 2023, SAMIL showcased next generation Phygital (Physical + Digital) auction technology through advanced MySAMIL mobile application. Company's physical presence has been taken care of by 120+ Automalls pan-India whereas online auction services are provided through CarTradeExchange.com, bids.samil.in and MyBlueJack mobile application for used Vehicles & Equipment pan-India. Furthermore, allied services like Documentation, Logistics, Financial Assistance, Insurance Assistance, Parking and FASTag services focus on customer retention and satisfaction.
During the 8-day long Auto Expo, SAMIL enlightened clients, potential customers and visitors about its technology-laden bidding platforms that make transactions hassle-free and quick. Company's B2B business model gives opportunities to a wide range of sellers across Consumers, Banks, NBFCs, Insurance Companies, OEMs & Dealers, Leasing, Rental & Aggregator Companies, Brokers, Transporters as well as Contractors.
Umesh Revankar, Executive Vice-Chairman, Shriram Finance Limited, said, "Shriram Automall India Limited set an exemplary presentation at Auto Expo 2023 with smart Live Demo Auctions that pulled in enthusiastic visitors and interested business owners in used Vehicles & Equipment market who were eager to learn about our range of services. We have recorded over 30,000 footfalls which is 50% more than the previous iteration of Auto Expo."
Sameer Malhotra, Director & CEO, SAMIL said "We are glad to end the Auto Expo 2023 on a grand note with our interactive Live Demo Auctions and interesting conversations. SAMIL successfully spread the word about its technology-driven auction services as well as state-of- the-art applications. Auto Expo 2023 happened after 3 years due to the pandemic thus we achieved 30,000+ footfalls which led to the generation of well over 2,000+ business leads. As the economy is reviving post Covid, the market sentiments have turned positive across all the industries and we are seeing the rise in the pre-owned vehicles & equipment market as well."
ABOUT SHRIRAM AUTOMALL INDIA LIMITED (SAMIL):
Shriram Automall India Limited (SAMIL), an ISO 9001:2015 certified company, is India's Largest Phygital Marketplace connecting pre-owned Vehicles & Equipment buyers and sellers. SAMIL began its journey in 2011 by setting up India's first professionally managed and organised Auction Platform for buying and selling pre-owned cars, commercial vehicles, construction equipment, farm equipment, three-wheelers, two-wheelers, etc.
Backed by CarTrade Tech Limited and Shriram Finance Limited, SAMIL has over 1,700 employees and more than 120 Automalls across India. SAMIL conducts thousands of auction events every month through its Phygital platforms (Automalls) and online platforms cartradeexchange.com & bids.samil.in. SAMIL also provides vehicle inspection and valuation services through Adroit Auto, innovative car buying and selling experience through BlueJack, precise used vehicles & equipment pricing through ThePriceX and industrial auction of properties, plant and machinery, commodities, and scrap, salvage and surplus assets through 123done.in.
For more information about Shriram Automall, its group companies and services, visit samil.in.
For more information, please contact:
Vibha Sarin Prabhakar
Chief Experience Officer
Shriram Automall India Limited (SAMIL), Delhi | India
7th Floor, Best Business Park, Netaji Subhash Place, Pitampura, Delhi – 110034 Tel: +91.11.42414422, Fax: +91.11.42414444
E-Mail: vibha@samil.in
Website: www.samil.in